Book your Arunachal Front Newspaper Classified Ads Instantly Online :
Book your Arunachal Front Newspaper Classified Ads Instantly Online :
Online Newspaper Ad Booking
Lowest Ad Rates
Save Upto 50% via Discount Packages
Instant Confirmation & Release
Select your Category for Arunachal Front Classifieds below :
CLASSIFIEDS
---
Ad Formats in Arunachal Front
Simple text format of advertisements charged on the basis of the number of words, lines or characters used in the ad matter. Enhancements like a tick, border, color, and bold fonts can be used in this pocket-friendly and economical form of advertisement.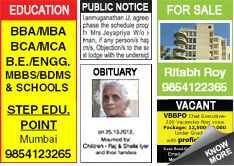 A better way to exhibit advertisements in newspapers which include catchy graphics, image, logo, colour, fancy font making ads more visible to the readers. This great way of advertisement that helps the advertisers to grab the attention of the target audiences is changed on the basis of per sq.cm unit.
Why advertise in Arunachal Front Classified?
WHY ADVERTISE?
---
Now publish your Classified Newspaper Adverts in Arunachal Front in just a few clicks online!
ReleaseMyAd being an I.N.S. accredited online newspaper ad booking agency that enables us to ensure a hassle-free online ad booking & processing of Classified ads to be published in Arunachal Front, at highly competitive rates.
Advertisers such as you can easily avail the best combo deals for advertising in Arunachal Front newspaper through releaseMyAd's online classified ad booking portal.
For any further information about booking your ad through releaseMyAd, click on the 'Additional Information' tab and to start with the booking of your classified ad in Arunachal Front, choose the ad category from matrimonial, recruitment, property, announcement, business or public notice to proceed to compose your advertisement.
Arunachal Front Classified Ad Rates :
Arunachal Front Classified Ad Rates :
Advertisement Section
Publishing Days
Booking Deadline
Arunachal Front Classified
Sunday,Monday,Tuesday,Wednesday,Thursday,Friday,Saturday
2 day(s) Prior
Ad Categories: Matrimonial, Property, Recruitment, Public Notice, Obituary, Education etc.
How to Book Classified Ad in Arunachal Front Newspaper ?
BOOKING PROCESS
---
How to book a classified ad in Arunachal Front in just 3 simple steps online:
Choose preferred category on this page along with the ad type and location or package
Compose your Arunachal Front classified Ad in the Compose Ad section and get a Live Preview of the same
Confirm Dates for release and proceed to Make Payment via online & offline mediums or confirmation.
On successfully receiving the payment for your ad, an automatically generated invoice is forwarded to your email, as provided by you on our website. After receiving approval from the editorial section of Arunachal Front, your ad will be released on the desired date(s).
All payments for classified ads processed through our website are handled securely through SSL encrypted system for higher security. Therefore, you can pay via credit cards/ debit cards, Net Banking, NEFT/ Wire Transfer & Cheque/Cash deposits.
Arunachal Front is among the most popular regional language newspapers. It is among the most widely circulated English daily across the entire north eastern section of India. It has a quite an impressive circulation figure in the state of Arunachal Pradesh with extremely low advertising rates for classifieds.
With the help of releaseMyAd, you can actually get your classified adverts released in this popular English daily. Due to the simplified and fast paced online ad booking system, advertisers can get rid of the tedious task of directly visiting the publication house or getting offline agents to get their ads published in Arunachal Front at exorbitantly high commission charges.
To add to this, both offline and online payment options available for advertisers to pay for their adverts as per their convenience. Now releasing newspaper ads under classifieds section is as easy as clicking on a few buttons via our coordinated online booking system of releaseMyAd. Classified ads can be published in 2 different formats in Arunachal Front, as are listed below:-
Classified Text: Text ads are published in simple texts/words or characters and are also priced accordingly. Advertisers can also add enhancements like screen, tick, background colour for more prominence. Text ads primarily cover matrimonial, property, change of name, lost & found astrology categories.
Classified Display: Classified display ads enable advertisers to add images, logos and customize the headers and footers in their advertisement, depending on the kind of budget assigned and prominence they intend to have. Both colour and black and white formats are available for the release of classified display ads. This ad format is a little more expensive than text ads and can be can be composed by customizing design templates directly online and are charged based on the size of the ad in per sq.cm unit. Under this format, even ads designed by experts can be uploaded in PDF/JPEG/EPS/TIFF formats.
Choose to advertise with Arunachal Front Classifieds for maximum brand exposure in South India and for a quick ad booking solution, pick releaseMyAd!
About Arunachal Front
Worried about getting contacts, rates, deadlines and manual booking procedures for your Arunachal Front classified ads? Your search ends here- Now you can book Arunachal Front newspaper classified text and display ads via releaseMyAd - India's largest newspaper ad booking portal. Just 3 simple steps and your ad is booked for the scheduled date.You can avail the best rates and discount packages for your Arunachal Front classified ads only at releaseMyAd. Get started !